Ruslana's NY Trip Report
LIGHTS OF FREEDOM
On April 3 Ruslana was honored by the Women in the World organization at New York's Lincoln Center.
She was one of a group of courageous women featured in the three-day conference. Ruslana was introduced by Ambassador Melanne Verveer and interviewed by WITW Founder Tina Brown.
The US-Ukraine Foundation and R.A.McConnell & Associates facilitated Ruslana's NY trip and helped organizing meetings and interviews for her.
###
Dear friends of Maidan, friends of Ukraine, friends of Peace, friends of Truth,

Today we are launching this website as the rallying point for a campaign to keep peace for Ukraine - all Ukraine. We are taking the Maidan and projecting it throughout the world to every computer in every office and home, every laptop, tablet and smartphone.

It is called Lights of Freedom because it represents the tens of thousands of people who came together on Maidan stand for peace and against Putin's aggression.

We are not fooling ourselves. Putin doesn't care about my opinion or yours. He cares about power. This campaign is to enable and empower you to tell your national leaders that they must stand up to Putin. The opinion he cares about is a strong, unified alliance of world governments telling him, no!

So my friends, my lights of freedom, this is just the beginning. In the next days we will be adding new information and functionality to the website. We will be keeping you up to date on the struggle for peace and telling you what you can do.

But right now, we need your help to project and magnify Maidan. By entering your name and contact information, you join thousands and hopefully millions of other lights of freedom. Wherever you are - in Europe, US, Asia, Latin America, Australia, Africa and China - by signing up you will be standing with us in Maidan.

Today there are tens of thousands of Russian troops poised to invade on Ukraine's border. We live at the point of a gun. We wonder every minute of every day whether or not we are to return to a life of fear and oppression. We wonder if that happens to us who will be next. That's why we need you to join us. Please do it right now. Tell your friends.
Ruslana's Speech | Women in the World Summit Final New York, April 5, 2014
RUSLANA AT THE WOMEN IN THE WORLD SUMMIT IN NEW YORK, APRIL 3-5, 2014
RUSLANA STANDS UP TO PUTIN
April 3, 2014
Women in the World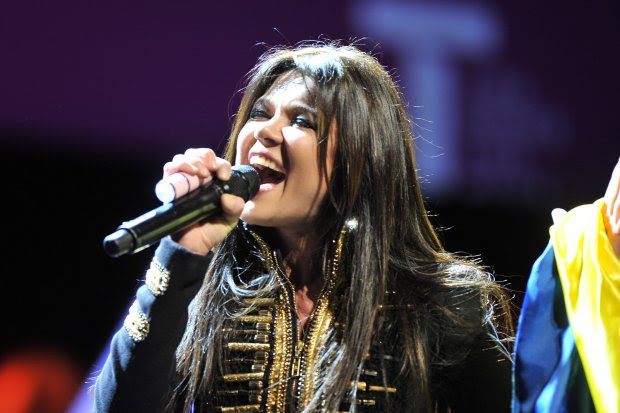 Ukraine's top pop singer and a leader of the Kiev protests tells Women in the World's Tina Brown that Russia can't take away the freedom of Ukraine's people.

Ruslana Lyzhychko brought a "mini-Maidan" protest to the 2014 Women in the World Summit.
Ruslana - National Anthem of Ukraine | Women in the World Summit 2014
As she did for four months during Euromaidan, a protest movement that takes its name from the Kiev Square where the protests originated, pop singer and activist Lyzhychko rallied the crowd at Lincoln Center in New York City with a powerful rendition of Ukraine's national anthem.

She explained that as she went face-to-face with police in Ukraine, she would hold up a tiny flashlight, serving as a shining beacon for the anti-Kremlin protesters. Lyzhychko invited the WITW summit audience to hold up their cellphone lights as a symbol of their support of Ukrainian freedom.

Despite Russian President Vladimir Putin's recent seizure of the Crimean peninsula and troubling troop buildup at Ukraine's border, he will not succeed in a Ukrainian takeover, Lyzhychko told moderator Tina Brown, the founder of Women in the World and CEO of Tina Brown Live Media.

"Sorry, Mr. Putin, but you look to the past, not to the future. Nobody supports your plan in the world," Lyzhychko said.

She's received death threats for spending up to 10 hours per day in Kiev's Independence Square to keep up protestors' spirits. As Euromaidan turned deadly in February, Lyzhychko stood defiant when coming face to face with snipers, telling them, "Shut up, give me time to say something."

She predicts that next month will be the most dangerous time for her country, because of impending presidential elections.

But Lyzhychko's efforts are all for peace, not war. Her voice is just one of millions in Ukraine. She believes that Maidan is all about giving power to the people of Ukraine, and they will prevail even though Putin has power, money, and propaganda. She thinks that Putin is truly worried about the power that's been given to Ukraine's citizens.

"Human life means nothing, empire means everything" to Russia, Lyzhychko said. Despite that, she thinks the Russian people will see "the light" of Ukrainian freedom because Putin is a bad example for younger generations.

Lyzhychko has been compared to Joan of Arc and even Katniss Everdeen of The Hunger Games book trilogy. She first became involved in the fight to retain Ukraine's independence during the country's 2004 Orange Revolution, according to Melanne Verveer, former U.S. ambassador for Global Women's Issues, who introduced Lyzhychko.

Ukraine's most famous pop star won the 2004 Eurovision song contest with her performance of "Wild Dances." Her album Dyki Tantsi became the best-selling Ukrainian record ever. She was also one of 10 women to receive a Women of Courage award in March from first lady Michelle Obama and Deputy Secretary of State Heather Higginbottom.
NATO officials warn that Russian forces at Ukraine's border could invade the country within a week.
INTERVIEW WITH TINA BROWN
Ruslana - Interview | Women in the World Summit 2014
INTERVIEW FOR THE DAILY BEAST
Award-winning Ukrainian pop star Ruslana stopped by the studio to talk to Keli Goff about Ukrainian politics and bringing attention to important issues through her fame.
Ruslana: Toyota Solutions Studio
RUSLANA AT CHARLIE ROSE SHOW
Singer and political activist Ruslana
To watch full interview: CLICK HERE
RUSLANA AT JOHN BATCHELOR SHOW
Ruslana, winner of 2004 Eurovision contest and consummate Ukrainian patriot, in re: Social movement, LightsofFreedom.com. I was on Maidan for 100 days and 100 nights. Through the winter. When snipers came looking for me, when police beat students. I sang the Ukrainian national anthem 500 times. We sang the national anthem every hour through the night, with the lights of freedom and our flag. I read a lot of important information from the stage, not as a singer but as an activist.
At this moment, there's occupation of buildings in Donetsk and Kharkiv: by Russian citizens from [a proximate oblast] and from Rostovska oblast. We know that Putin paid for this; and Spetsnats came to Ukraine --I spoke with the legal head of this region; they destroyed shops with weapons, Russian radicals are extremely aggressive. Also separatists. A friend of mine in Kharkiv, named Ruslan: These Russian citizens are trying to use Russian money to buy petrol. No Ukrainians have it. Can the Ukrainian government hold together till the May elections? I thought Putin had agents in Kiev; . . . I'm not sure this government has enough power to protect Eastern Ukraine.
Ruslana at John Batchelor Show | News Talk Radio WABC New York, April 7th
RUSLANA ON MSNBC NEWS
Pro-Russian demonstrators seized government buildings in three cities over the past few days in Ukraine's eastern region. Former Ukrainian parliamentarian and pop star Ruslana Lyzhychko discusses the latest with Ronan Farrow.
Ruslana: Putin organized unrest | NBC News, 07.04.2014
INTERVIEW FOR THE BLAZE
UKRAINIAN ROCK STAR HAS SOME DEFIANT WORDS FOR VLADIMIR PUTIN
The Blaze
April 9, 2014
NEW YORK - Ukrainian rock star Ruslana Lyzhychko sat with her back to the camera, putting the final touches to her makeup.

"We are the faces of Ukraine," she said smiling. "Do you think this is a face Putin would fear?"
To read more: CLICK HERE
ARTICLE BY ANDREA CHALUPA
WHY THE WOMEN IN THE WORLD SUMMIT MATTERS
The Huffington Post
April 9, 2014

Where else can you eat lunch with Pussy Riot, sit next to Senator Gillibrand as she discusses her upcoming book with her publisher as Huma Abedin rushes by to grab more coffee? Tina Brown's Women in the World Summit is an annual event bringing together exceptional women from around the world to honor the countless women battling oppression every day.


To read more: CLICK HERE
RUSLANA AT THE UKRAINIAN MUSEUM IN NY
Ruslan Lyzhychko appeared at the Ukrainian Museum on Sunday, April 6, 2014. Photos by Aleksandr Khantaev.
PHOTO REPORT
Meeting with Hillary Clinton
Meeting with Tina Brown
Meeting with Melanne Verveer
Meeting with Ambassador Samantha Power
RUSLANA AT THE UKRAINE CRISIS MEDIA CENTER REPORTING ON HER NY TRIP
April 11, 2014
Ruslana. Ukraine Crisis Media Center